Physical Illness: How is it transforming me?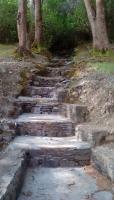 Aluvia's Workshop Series:  Paths to our Essential Self
Each topic is offered twice each month. You can attend as few or many of the series as you like. 
The intention of each 3.5-hour workshop is to support heightened awareness of yourself and your world. 
November – Topic 5
Physical Illness:  How is it transforming me?
Why me? Why now? Why this?  A gift that may look like a curse may have arisen in your life.  While each situation is unique, there is a common thread weaving through our experiences of difficulty, pain, confusion, anger, and the life-changing experience of illness and disease.  We will explore attitudinal healing principles that can bring peace and clarity to the healing process.
Each class will include:
a guided practice to an expanded state of awareness

metaphysical teachings on the topic

interactive processes with others

instruction & experience in using high sense perception

resources for continuing support
Please be willing to engage and risk new and desirable experiences and change.
December – Topic 6
Giving & Receiving, A Fulfillment of the Heart
A Course in Miracles and its principles of attitudinal healing propose that giving and receiving are the same.  We will explore our motivations for giving and our needs for receiving, and the reconciliation of both in the place of the heart.
Event Properties
| | |
| --- | --- |
| Event Date | 11-13-2019 12:00 pm |
| Event End Date | 11-13-2019 3:30 pm |
| Capacity | 12 |
| Registered | 0 |
| Available place | 12 |
| Cut off date | 11-11-2019 9:00 am |
| Individual Price | $75.00 |
| Speaker | Aluvia M. Astrid |
| Number Hours | 3.5 |
| Location | THE HEARTh Holistic Healing Retreat |