Kundalini Awakening and Gong Meditation with Leilani Clark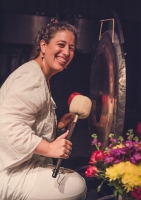 This 2-hour class is offered twice per month (scroll down for the date of this class)
Truly, you must experience this!
Attend Leilani's "Kundalini Awakening & Gong Meditation" for a felt-shift in your experience of yourself and your world.  These practices affect internal change at a cellular level, and heighten self-awareness.  Leilani also integrates the vibration of essential oils, unique to each person.


This practice supports anyone who:
is dealing with stress, anxiety, or depression

wants to deepen their self-care practice

is constantly on the go and who need a space to unwind

wants to restore balance within their internal systems

wants to strengthen the body-mind-soul connections
Participants will learn strategies and practices for:
calming the mind

strengthening their body-mind-soul connection

alleviating stress, anxiety, and depression

everyday life situations
Please come with a willingness to be open and honest with your Self, and bring:
mat or towel (you can bring your own personal bolster)  

water bottle

journal, for notes on your own
No prior experience with yoga required; open to all ability levels.
Homemade Yogi tea will be offered at the conclusion of practice.
~     ~     ~
Kundalini Yoga as taught by Yogi Bhajan is known as the Yoga of Awareness. Generally speaking, participants should anticipate practicing movements (kriya), breathwork (pranayama), and meditation.
As we come onto our mats, it is an opportunity to release the self-destructive thought patterns that have been entrenched in our minds. It's an opportunity to listen and to come into relationship with our true Self, our Highest potential.
During the Gong Meditation, participants will come into a relaxed position while the gong is played. The gong is a powerful tool for shifting stuck energy. Because we all operate on frequencies, the gong's vibrations can move energy at a cellular level. The gong can be incredibly transformational for helping the body enter into a deep meditative state and bringing subconscious patterns into the realm of consciousness. As we consciously explore, we can consciously transform.
Each class will work to balance the body's energy centers or chakras and strengthen the nervous and glandular systems. 
Come and explore your inner world!
Event Properties
| | |
| --- | --- |
| Event Date | 10-23-2019 6:00 pm |
| Event End Date | 10-23-2019 8:00 pm |
| Capacity | 16 |
| Registered | 0 |
| Available place | 16 |
| Cut off date | 10-21-2019 9:00 am |
| Individual Price | $40.00 |
| Speaker | Leilani Clark |
| Number Hours | 2 |
| Location | THE HEARTh Holistic Healing Retreat |